Digital Deli TV
The Future of Media Now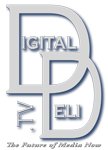 Digital Deli TV™ publishes IP based, multimedia using Reactive Internet Multimedia technology on a global enterprise class broadcast network. Prepare yourself for UltraHD visual media so crystal clear it is like looking out a glass window.
Digital Deli Private Net™ and Secure Net™ are commercial business media content delivery and rendering services that provides seamless scheduled and on demand delivery of any media content for networked digital displays and private networks.
Multimedia Publishing Network
Digital Deli TV One™ (ĐĐTV1)
Regional Content Network™ (ĐĐTV1-RCN)
Edu-tainment Network™ (ĐĐTV1-ETN)
Digital Deli Private Net™ (PBN∴B4B)
Digital Deli Secure Net™ (sPBN∴B4B)